Steering Repair in Ukiah, CA in Ukiah, CA
Your Local Steering Repair Specialists
Proper steering points your vehicle in its intended direction, crucial to overall safety. Clunking sounds in the steering column or looseness in the wheel indicate the need for steering repairs, and only the highest level of experience will keep you steering safely and smoothly. This is what you'll get at Alliance Auto Service in Ukiah, CA, where our local steering repair specialists know how to accurately maintain any make you own. On a Ford, BMW and Toyota alike, we're equipped to handle all your steering repairs and get you back on the road with confidence.
Taking Great Pride in Steering Repairs
Alliance Auto Service stands as the only AAA-approved repair facility in Ukiah, owned by a Rotary member who's an active contributor to our community. Since 2004, our team has served the steering repair needs of drivers throughout Ukiah and Mendocino County with the highest standards of quality. From power steering fluid on a Land Rover to the rack-and-pinion on a Subaru, no task is too big or small for our ASE-Certified technicians to manage. Here at Alliance Auto Service, we take great pride in our steering repair abilities, aiming to prove ourselves as your logical alternative to any dealership.
The Utmost Care for Every Customer
A long-term maintenance plan will help you avoid steering repair surprises, and Alliance Auto Service is more than happy provide this benefit. When you bring your vehicle to us for any reason, we'll perform a complete digital inspection of every part and system, including photos for your review. You'll have literally the full picture in hand to make informed choices beyond just steering repairs, both now and in the future, along with our honest recommendations. Altogether, it's our mission to demonstrate the utmost care for every customer, including unbeatable warranty protection for your peace of mind.
The Benefits of Alliance Auto Service
Servicing All Import & Domestic Vehicles
The Only AAA Approved Shop in Town
ASE-Certified Master Technicians
Bosch Service Station
NAPA AutoCare Center
ACDelco Service Center
Owned by a Rotary Member
2-Year/24,000-Mile Warranty
Open Five Days a Week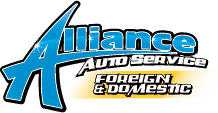 For steering repairs with pride and care, count on your local import and domestic car specialists at Alliance Auto Service in Ukiah, CA.