Auto Repair for Ukiah and Beyond
If you're looking for a local auto repair shop you can trust, consider Alliance Auto Service. Since 2004, we've been providing our friends and neighbors in Ukiah with dependable, trustworthy auto repairs. Whether your vehicle needs a minor tune-up or a major overhaul, our service technicians can efficiently pinpoint solutions to problems, saving you valuable time and money.
Commitment to Customer Satisfaction
At Alliance Auto Service, our number-one goal is complete customer satisfaction. We focus every day on providing high-quality auto repairs coupled with top-notch customer service. Thanks to our many five-star reviews, we're proud of our reputation as one of Ukiah's most trustworthy auto repair shops.
A True Alternative to the Dealer
Looking for an affordable alternative to the high prices at your local dealership? Alliance Auto Service can help. Supported by a team of ASE-Certified technicians who receive ongoing training in auto repair services, we're able to offer you dealership-quality knowledge and experience, without dealership pricing.
Technology and Experience to Get You Moving
Our technicians at Alliance Auto Service stay up to date on the latest automotive technology, utilizing professional, hands-on experience working with many vehicle types. We use the most current diagnostic equipment available, including original factory equipment, allowing us to often more quickly uncover the problem and begin working on the solution. Combining cutting-edge technology with real-world experience, it's our mission to get you moving in less time than it takes other shops to simply figure out what's wrong.
Contact Us. We're Here to Help!
We invite you to take a look around our website and learn more about what we do. Read the testimonials from our many happy customers, or find out more information on our specialties. Call or email us to inquire about how we can help with your specific automobile concern. All of us at Alliance Auto Service will be happy to answer any questions you have about our business and our services.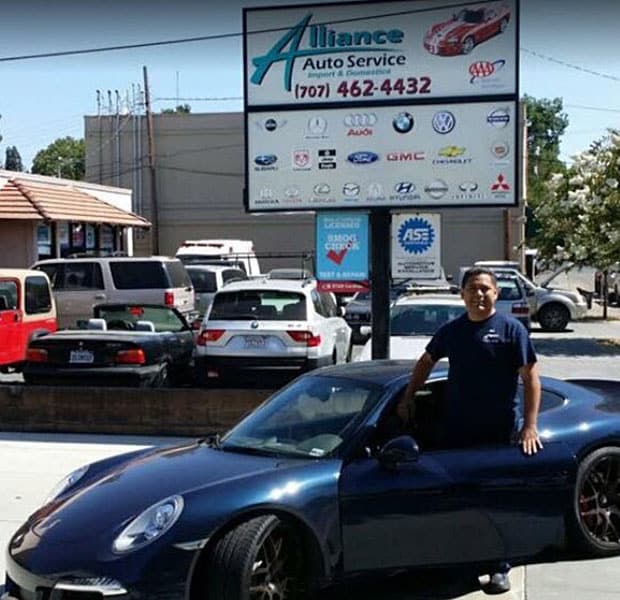 A Few Words from Our Customers
Thank you so much Salvador!
I was in Ukiah to accompany my father to a doctors appointment. As I was leaving to drive home I decided to put the top down on my Mercedes (it goes into the trunk.) Well it got halfway down and wouldn't go up or down. After spending a half hour on the phone with Good Sam I decided to hang up and look for foreign auto repair near me. Well it just so happens Alliance Auto Repair was just around the corner. I drove there, yes the top was half down LOL! Salvador was able to get it back up within 10 minutes, and wouldn't let me pay anything for his service! Thank you so much Salvador!
I definitely recommend their shop!
I couldn't be happier with the service I received from these guys!
I rolled into town at 4:30 on a Friday, in my husbands BMW, and the battery light goes on. I search online for a mechanic that fixes import cars. I call, and within minutes we pinpoint the problem. I was able to leave the car with them over the weekend, while I attended the event I was in Ukiah for, and pick the keys up on Sunday, even though they are closed, so I could get home to my family. These folks went above and beyond to help me. I really appreciated the help. This situation could have been much more of a hassle than it was. I definitely recommend their shop!
I am very happy to have my car in their hands
My family could not be happier that we discovered this auto repair shop. Their staff are very professional, excellent communicators, and go the extra mile to do a stellar job. We have Volvos, they were very comfortable and knowledgeable with them.
Alliance offered to set up a car rental for us in the interim while we waited for our car to be available. While we did not need it, it was great to have that as an option. And, my favorite part, my car was washed and extra clean upon pick up! I am very happy to have my car in their hands, they are awesome.
These folks are amazing!
These folks are amazing! Was driving over hwy 20 on a Friday afternoon when one of my rear wheels locked up. Got a tow to these guys and even though it was 4:00pm on a Friday they started tearing it apart to see what was wrong. Since they are the only shop in town that is open on Saturday my car was ready to go before the weekend was over and their rates are the best in the area.